Bending/Press brake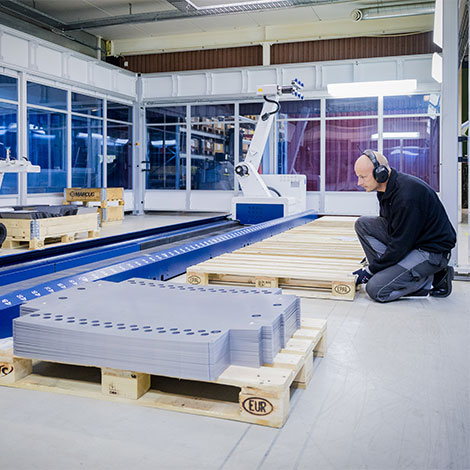 KMG has innovative, competent, and experienced programmers and operators working its two bending cells for versatile and effective production of both KMGs and customers' products and services. Bending is a flexible process which makes it possible to create multiple different shapes and forms. We have a wide spectrum of tools that cover most needs.
We have two TRUMPF TruBend Cell 5000 with BendMaster 60, paths length 8 and 10 meters, with Tru Tops Bend software.
Maximum component size: 2000x1000mm
Maximum capacity load: 60kg
Minimum sheet thickness: 0.3mm
In addition, KMG has 2 CNC controlled press brakes for bending of steel and metal plates measuring up to 3 meters in length. These models, with a range in capacity from 50-100 tons, can handle a wide range of material thickness and bend lengths.
AMADA Promecam HFB 1003
Length: 3000mm Capacity: 100 tons Depth: 700mm
AMADA HFE 50-30:
Length: 2000mm Capacity: 50 tons Depth: 1000mm