Stamping tools
Karl M. Gulbrandsen has its own tool department that creates punching tools for own productions and for other actors in the same field, by request.
We have seven trained and certified tool makers, and one employee who is trained in CNC-machining. KMG is an approved training establishment for four subjects, like toolmaking and CNC-machining. KMG is highly engaged in training and recruiting of youth to our field.
Tool design
KMG has qualified developers that draw and engineer in 2 and 3D software. We use DAK/DAP solutions based on Autodesk Inventor and NC-Polaris/MasterCam. This gives us the opportunity to continue working with the customers' own drawings in the vast majority of cases. Development in collaboration with the customer makes it possible to create a cost-efficient production, which again leads to cheaper components.
KMG has its own development department that plans and discusses how the tools should be built. This leads to, amongst other things, monitoring being taken into consideration before the tool is created. The construction of a product is often crucial in its potential for success on the market. Complex shapes can perhaps be simplified if the product is presented to a skillful constructor in time. The result is often a product that can be produced in a more rational way.

Tool production, modification, and maintenance
KMG's own tool department is an expert on punching tools. Here, tools can be created according to the customer's own specifications, or according to an effective method we agree upon. If the customer does not have their own development department, one of our constructors can offer their assistance so the product will be optimal.
All the tools created at KMG have their own documentation binder. These binders exist both digitally and in paper format. If a tool leaves our factory, it is possible to get information about it for at least 10 years after the fact.
All the tools that are built or used at KMG are constructed to be monitored.
The customer can always feel safe choosing KMG as the producer of its article, because of the extended knowledge of the company's departments.

Wire erosion, machinery, and lathing
KMG tool department has a number of flexible machines at its disposal, including CNC-steered milling machine (Maho 500C), vertical machining center (Haas VF4SS, 2009 model), CNC-lathe (Haas DS 30SSY, 2016 model), wire erosion machine (Charmilles Robofil 440SL, 2005 mod.), Tos Trencin SUI 40-50 lathing, multiple grinders and 2 curing/annealing ovens, which means that we can produce very precise tools. These machines combined with NC-Polaris/MasterCam and Inventor give us the opportunity to have full control over the machines. Extended experience and skillful employers is also an advantage when optimizing the utilization of this equipment.
Curing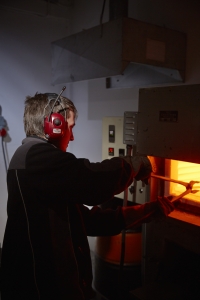 KMG has two curing and annealing ovens with a maximum temperature of 1100 degrees, C.H.E (oven: L 450 mm x B 250 mm x H 180 mm, calling/tempering: 450 mm x 250 mm x 180 mm) and C.H.E Hagan (oven: L 480 mm x B 330 mm x H 180 mm, calling/tempering: 480 mm x 380 mm x 190 mm).
Both ovens are placed in a separate curing room.
KMG also has three different sclerometers or harness testers; 2 hardness testers for Rockwell (HR) and one harness tester for Brinell (BHN).
KMG performs curing, tempering, and hardness tests upon request.
We have good experience and practice with curing of most types of tool-steel.